L&M Arts
January 18–March 31, 2007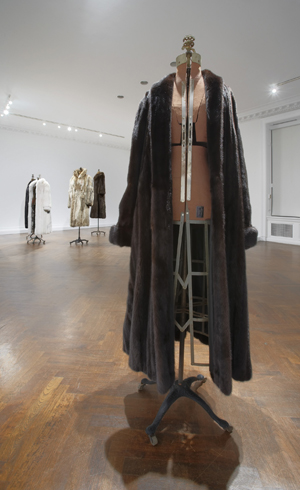 David Hammons, a New York artist of considerable influence, has not had an exhibition of new work since 2002. His three-decade career has sustained a radical conceptual practice, proliferated through street performance, public installation, sculpture and beyond. While his previous endeavor appeared at the formidable Ace Gallery, his work commands a level of critical distinction that supersedes the conventional gallery system. Yet the choice location of his long-awaited effort was not in a museum or on the street, but at a stuffy gallery in an Upper East Side townhouse.
This untitled exhibition was staged in two rooms on two different floors of L&M Arts, a gallery handpicked by Hammons for the show. In the downstairs gallery, he draped five luxurious, front-facing fur coats on dress forms, four clustered to the left of the gallery and one to the right. Another stood alone in a gallery upstairs. The six coats, cut in classic, elegant, styles from distinct furs, like mink and fox, were defaced on their backsides by streaks of paint—yellows and greens and pinks—dried to a crust. The one coat upstairs had been partially torched, a large hole burned through the middle.
The show was credited as a collaboration with Hammons's wife, Chie—and while its joint realization is certainly significant, reading the new work within David Hammons's oeuvre is particularly telling. Initially, the use of expensive fur seemed suspicious for an artist who has staunchly aligned himself with Arte Povera. Hammons is more known for his economical and clever use of discarded or ephemeral materials. He often combines and transforms the common objects— basketballs, malt liquor bottles, chicken wings—of black street life, endowing what has been marginalized and invisible with significance. His relational work is especially powerful, like his often-cited performance of selling snowballs in Harlem, or drawing with dirt, demonstrating a penchant for resourcefulness and making something from nothing. Hammons's attack on fur was a provocative reversal of his own form, debasing highly valued objects, as opposed to elevating the artifacts of the street.
Given the context of the gallery, Hammons's coats fit squarely into a representation of an elite, Upper East Side lifestyle. L&M deals primarily in 20th Century masters, and visiting the gallery I expected a certain air of stateliness. Although I was aware that the show had been specifically staged there, almost precontrived for pretense, I still felt uncomfortable inside the townhouse. Just as I set foot to ascend the staircase, I was shadowed by the gallery assistant, who followed me up to the lone coat. This coat was made from rolls of chinchilla skin, exquisitely puffed, segmented and tailored, and Hammons had attacked it, burning it straight through the back. The burning and desecration of a fur coat is a culturally loaded, unequivocal protest against greed, cruelty and suffering. While the debate over fur is socially divisive, it is rooted in the larger question of what it means to be humane. Hammons has consistently been concerned with issues of integrity, reparation and transformation. His renounced furs embody the political possibility of restoring value to the invisible and dignity to the powerless.
Ultimately, the meaning and lingering shock of the exhibit remains not so much in the redress of abuse, as in a final—and signature—coup. Hammons laid out his provocation, and then, professed to overturn his case. Standing upstairs between the chinchilla coat and the gallery assistant, I asked her about the brand and the style of the coats. "Hammons said not to think of the coats as coats, but as canvases," she insisted. In a kind of Emperor's New Clothes in reverse, I imagined Hammons convincing the gallery (and then in turn their patrons) of the benevolence of the exhibition, referring to the defaced coats as "just paintings." To me, hearing the fur chinchilla coat called a blank canvas sounded completely perverse. It is a testament to Hammons's genius that he can manipulate power structures with such deliberately heavy hands and succeed in orchestrating so disturbing an experience.