For We Were Strangers in Egypt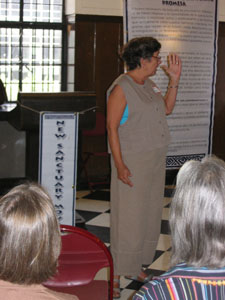 When Cardinal Roger Mahoney of the Archdiocese of Los Angeles gave his Ash Wednesday sermon in 2006, he called on Catholics to aid immigrants both legal and not. Taking inspiration from the Old Testament book of Leviticus, he reminded his parish of the ancient injunction: Treat the stranger as you would the native-born because you were once strangers in the land of Egypt.
Mahoney's words resonated throughout the U.S., jolting clergy and laypersons to support immigrants threatened with deportation. The result was a New Sanctuary Movement which has brought churches, mosques and synagogues into coalition. In 12 states and dozens of cities including New York, the NSM materially supports families in which one or more person is facing removal. According to the National Korean American Service and Education Consortium, the stakes are enormous: 3.1 million U.S.-citizen children have at least one undocumented parent who could be deported.
Last year, 185,431 individuals were deported nationwide, up from 108,249 in 2000. Local figures are less precise because Immigration and Customs Enforcement, known as ICE, does not keep statistics by borough. Nonetheless, agency spokesman Mark Thorne says that 2,173 people were removed from 14 downstate New York counties in 2006; the region saw another 1,148 deportations during first eight months of 2007.

"The New Sanctuary Movement offers spiritual, moral and legal services—but not necessarily shelter—for families in trouble," says Rev. Donna Schaper, senior minister at Manhattan's Judson Memorial Church and an NSM activist. "We go to hearings and stand with people when they go to ICE. We advocate on their behalf and publicize their cases. We want to let the public know about the law-abiding, hard-working people being deported. We want to make sure every American hears their stories."
While many people are being assisted by NSM affiliates, two Brooklyn families have gone public, shining a floodlight on what they see as flawed immigration policies. Joe Chen arrived in the U.S. in 1996, a 17-year-old kid with dreams of freedom and prosperity. His parents had paid smugglers to get him out of China, knowing nothing about the Illegal Immigration Reform and Immigration Responsibility Act (IIRIRA) or the Anti-Terrorism and Effective Death Penalty Act, both passed the year he arrived.

Upon arriving in New York, Chen found food service work and enrolled in English classes. In 2005 he married Mei, a woman two years his junior who had arrived in the city in 2000. Their first child was born shortly thereafter; a second was born earlier this year.

In December 2005, the Chens accompanied Joe's cousin on a trip to Vermont. When a Vermont trooper pulled them over for speeding, he asked to see everyone's ID. Joe's cousin, a U.S. citizen, was ticketed and released. The Chens were not so lucky. Joe was detained for three months, Mei for four-and-a-half. "Our baby was only six months old," Joe says.

They were held in Vermont, then moved to a jail in Massachusetts. "My aunt had to watch her and also had to run around like crazy to find us a lawyer," Joe recalls. During their incarceration, he and his wife weren't allowed to contact one another. "We couldn't even write to one another. We had to send letters to New York and our relatives would then mail them to us. It would take two weeks to receive or send a letter," he says.

Although both were released in 2006, the threat of deportation continues to loom.

"It's a nightmare," Joe explains, because under China's one-child policy, their return will likely mean sterilization for Mei. What's more, they fear that one of their children will be taken and put into an orphanage. "We'll lose everything if we're deported," Joe says. "We're under a lot of pressure as young people, as young parents. But I believe we'll be okay. I believe God will protect us."

Still, Chen's voice breaks, and he sounds incredulous, as he describes what he calls a gross injustice. "We work. We support ourselves and we support our families in China. Why should the U.S. spend taxpayer money to hold non-criminals? I believe the U.S. is the land of opportunity but I'm frustrated by the immigration system."

Rev. David Rommereim, pastor at the Lutheran Church of the Good Shepherd in Bay Ridge, has been assisting the Chens since May 2007 when the congregation joined the NSM. "We started to remember what we're about as a church," Rommereim begins. "Only one person in our congregation is not from an immigrant family. He's the one Cherokee member. As we remember our roots, the inhumanity of the system became clear. We're not about breaking the law. We're about changing the law. Joe and his family pose no threat to society. They have two American-born children. If Joe and Mei are deported the family might be split up. That shows us that the immigration system is broken."

Rommereim recounts a conversation with a member if his congregation that sealed his commitment to the movement. "She told me, 'Pastor, this is the first time I've felt Christianity mean something.' This is a woman in her 50s who'd been coming to church for years. The NSM makes it all add up, helps us be proactive in pushing for justice and merciful legislation."
Brownsville resident Jani Montrevil is at the helm of that fight. She and her husband, Jean Montrevil, are being given sanctuary by Manhattan's Judson Memorial and Riverside churches. In their case, Jean, a Green Card holder when he came to the U.S. in 1986, is being threatened with deportation to Haiti.

He was arrested in 1988, when he was 17 years old. After serving 11 years on a drug charge, he married, had two children and became the owner of a religious artifact business in Flatbush. Nonetheless, a provision in the 1996 immigration law allows anyone convicted of a crime to be deported.

"Look, the person Jean is now, at 38, is not the person he was at 17 or even at 21," says Jani, a US-born substitute teacher. "Life is trial-and-error. Jean was abused by his father and ran away when he was a teenager. When he came to the U.S. he had no support system. He was gullible. When someone asked him if he wanted to make some quick money he fell for it. He was young and got caught up in a bad system. He found the streets. It can happen to anyone who doesn't have the proper guidance."

Indeed, when Jean was released from prison in 2000, he was told he would be under supervised release until late 2005, so when he received a letter asking him to report to his probation officer in February 2005 he did so. "When he got there someone from ICE came in and told him he was being deported," Jani says. They held him for six and a half months, until August 17, 2005. "When I got the call that he was being detained for deportation I didn't know what to do," she continues. "I gave myself 24 hours to regroup, then started advocating." Jani eventually found a local immigrant rights group, Families for Freedom, which led her to the NSM.

"It's just not fair," Jani says. "We're ready to buy a house, but we can't because we know the income may not be there. Every month or six weeks when Jean has to go to Immigration I know he can be detained. The ministers from the NSM go with him but it's still scary. When he calls and says 'Baby, I'm out,' I know I have him for another six weeks. It makes every holiday, every day, significant. If he was a rapist, or a murderer, or a child molester I could understand, but he's a good man. He did his time."

Rev. Schaper agrees. "It's double jeopardy," she says. "Jean spent 11 years in jail and is now a married businessman who is totally rehabilitated. The law that was passed in 1996 is the dumbest, most inhumane policy imaginable. Jean has not committed a second offense. Worse, we know that if he's returned to Haiti he'll be tortured."

Schaper's speech quickens as she continues. "The language of hate against immigrants is appalling; vile. Scripture is committed to the other, to the stranger, the alien. Literally, all of our traditions say that we meet God in the stranger. To exile the stranger is the same as telling God to go away. We're a non-violent, in the sunshine, movement. We are not taunting ICE. We're simply pointing out injustice. That's the heart of religion."