Triple Candie / Anton Kern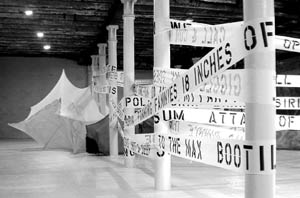 In the hands of Harlem, Holland-born artist Lara Schnitger, the Harlem gallery Triple Candie resembles a crime scene, all wrapped up in that familiarly forbidding yellow tape. But instead of the warning "POLICE LINE DO NOT CROSS," Schnitger's wraps contain text fragments familiar to surreptitious late-night websurfers: "POPPIN' FOAMING FANNIES," for instance. The euphemistic language of fetish porn frames the viewer's every move at Triple Candie; you can hardly concentrate on Schnitger's equally explicit sculptures without glancing up to read "SMELL MY PIE SWEET MEAT" or "TRIPLE CANDIE" (a coy demonstration the gallery's own orgiastic implications for the creative/dirty-minded) from the mock police tape that hangs in the air like a static news ticker broadcasting the libidinous fantasies of each visitor.
Schnitger's work is the subject of concurrent gallery shows at Triple Candie and at Anton Kern Gallery; her eccentric, erotic sculptures are the main event in each. Her sculptural m.o. is to wrap a network of wooden planks in fabric, sometimes bearing color-coded associations—pantyhose brown, pink (common porn buzzterm for pussy, see PinkCandyShavers.com, PinkBabes.net, and GiveMePink.com)—and to accessorize with lace, tassels, "wads" of cotton, and fake hair (bush?). Several of these vaguely anthropomorphic structures are enveloped in transparent Lycra, revealing their wooden guts. Others wear uniforms made from opaque fabrics: silk scarves, dishtowels, plaids, sheets with cherry patterns (get it?).
It goes without saying that the Dutch have a special affiliation with the sex industry, and there are relationships to be teased out between Schnitger's installation Blacks on Blonds (all works 2005) at Triple Candie and the gloriously seedy streets of Amsterdam's Red Light District. Sex is normalized in Amsterdam; the US is notoriously sexually repressed (this year Congress will spend $170 million on abstinence-only sex education in schools), and Schnitger's police tape feels like a metaphor for the private frustration and repression that engenders sex crimes. It also dominates the viewer's movement throughout the gallery. There's no dictatorship of the viewer here; only one route leads you throughout the entire piece. As you follow Schnitger's lascivious lane and peep through the holes into a sea of pink (wink wink) lycra, it might even turn you on a little if voyeurism's your thing.
Schnitger's Anton Kern show is more crowded (nine sculptures, a few fabric collages, and a recording of Schnitger's K Records-ish music). Several of the sculptures are clearly meant to resemble people, or at least semi-anthropomorphic entities. Several of these hunkering structures have the appearance of being dressed instead of exposed; by eschewing transparent lycra as their wrapping material, Schnitger makes them all the more person-like. Some, however, remove their veils to expose themselves anyway. "I Want Kids," for instance, stands awkwardly on three legs with an abject, hairy dick hanging low. "Fun Bags" has a cotton tube shaped like a condom in place of one eye. Schnitger also incorporates stenciled text directly onto many of the sculptures showing at Anton Kern. "High Heeled Honey," a towering creature that seems to have stumbled right out of a cyber-domination computer monitor and into a Chelsea showroom, bears lascivious language ("PUT YOUR POLE IN MY CUNTROL") running up its body like a spiral staircase.
Schnitger's collages at Anton Kern confirm her already obvious sex obsession. A naked woman (except for socks—is that a fetish?) bends over waiting to take it from behind, an orgiastic scene unfolds, a cat/human-creature floats with spread legs holding its tail/dick with the text "IT AIN'T GONNA LICK ITSELF" emblazoned over its body. Artists like Martha Rosler, Lee Lozano, and—more contemporaneously—E.V. Day and Kim Gordon (through her songwriting in Sonic Youth) have replicated the sign systems of porn to expose its violence toward women. Schnitger's work has no such agenda. Hers seems about the exposure of personal desire and fantasy, the baring of a supersexualized imagination. While the application of dirty talk to her sculptures contains the veneer of critique, she doesn't pursue a critical method with any rigor; "PUT YOUR POLE IN MY CUNTROL" seems meant to coax a cheap guffaw from the viewer, not to comment meaningfully on porn's role in the sexual or psychological abuse of women. These campy works epitomize the crafty thrift store aesthetic in contemporary art, the massive popularization of which has eliminated craft as a feminist weapon. For all the perversity and voyeuristic violence that superficially charges Schnitger's work, it does nothing to perpetuate a dialogue about sexual objectification or sex crimes. It simply confirms that sex dominates her thoughts. Schnitger's art gives the veneer of transgression, but is ultimately little more than a gleefully decorative representation of fantasy.