Material Witness: The Selected Letters of Fairfield Porter
Edited by Ted Leigh, Introduction by David Lehman with additional notes by Justin Spring

The University of Michigan Press (2005)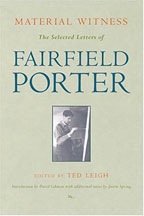 In law a material witness is someone with "relevant knowledge" about the case at hand. Fairfield Porter certainly had relevant knowledge of American painting from 1935 until his death in 1975. But Material Witness holds a pun. Just as Mallarmé reminded Degas that poems are made of words not ideas, Porter held that paintings are made not from ideas but from paint. He had learned this, like he learned most of what he knew about painting, through experience, and when he taught, this is what he told his students. During his years as an art critic, this feel for the materiality of paint helped Porter write so well about representational and abstract painting.
Born in 1907 into a patrician Chicago family, Porter graduated from Harvard, the only significant American painter in the twentieth century to have done so. He studied with Thomas Hart Benton at New York's Art Students League; traveled in Europe including Russia; seriously involved himself in Leftist politics; and in 1932 married the poet Anne Channing. Porter was determined to become a painter, but the birth of John, the first of the couple's five children, changed his plans. At age two John showed signs of a severe mental illness. Porter spent the next decade doing what he could to understand and help his son. He painted, and in his native Chicago he saw the Vuillard show that would be one of his touchstones, but John came first. When faced with a challenge, Porter was a stubborn man. This virtue served him well when, after a home for John was found in Vermont, Porter, now living in Manhattan, began to paint in earnest. The paintings he is known for today were almost all painted after he turned forty, an age by which some artists nowadays have had museum retrospectives.
In Manhattan, and later in his Southampton home, and on the family island Great Spruce Head in Maine's Penobscot Bay, Porter had the advantage of a modest trust fund. In 1951 Porter began to write art criticism for Thomas Hess's Art News, and soon after the fledgling Tibor de Nagy Gallery gave him his first show. Through the next decade Porter was in the thick of New York's art world, and he became especially close to John Ashbery, Barbara Guest, Kenneth Koch, Frank O'Hara, and James Schuyler. Indeed he may be the only painter to have made portraits of all the first generation New York School poets. His art criticism, collected and published as Art In Its Own Terms, is high grade and would be significant even were he not a splendid painter.
Porter famously had no small talk and behaved abruptly to everyone. More brusque than rude, he could, and did, take people's breath away. According to his son Laurence, he could be "brutally honest," and his friend Edith Schloss emphasized his "determined directness and clear sight" as an artist and man. This is the man you encounter in Material Witness, and because Porter did not polish his letters as he did his criticism he is here in full.
In his art writing Porter's style is succinct and aphoristic. He is the sort of writer whose sentences you copy into a commonplace book. This is just as true of his letters. Here are three sentences from a 1968 letter of advice to the twenty-six year old Joe Brainard:
"You do not know the order of art until it is made."
"What I dislike is a sureness that imagines it knows better than anyone else…"
"The good thing about painters' talk is that because they are not used to words (or when they are not) the words have a vitality that writers' words lack."
Here he is writing to his brother, the photographer Eliot Porter: "The question of literalism in art is one of lack of artistic nerve, an appeal to knowledge, not daring to be passive enough towards one's intuition."
His ability to make a fresh simile, much in evidence in his art writing, occurs less often in his letters, but he does bring off a beaut now and then. This is from a tart and funny letter to John Bernard Myers and Tibor de Nagy about selling his paintings to companies: "To make concession in a sale to a company is like selling a daughter cheaply to a whore house, I would rather give her away to someone who cares for her." Porter rarely lets on that he means to amuse, but he is lively and in his deadpan way he can be very funny. The reader who warms to Porter will enjoy this book for Porter's thinking and opinions and for his terse, flinty prose.
Having edited the poet James Schuyler's selected letters Just the Thing, I know from experience that errors in books like it are inevitable. They may be minor and easily correctable if the book ever is blessed with a second edition, but such errors are annoying. This book, edited by the artist and Porter student Ted Leigh, has its share. Several head notes are either pages before or pages after the letters they comment upon; the Tiber Press is confused with Tibor de Nagy thus leading viewers away from Porter's review of the Tiber books; letters to Schuyler in the spring of 1961 are out of sequence and Jorge Luis Borges did not write One Hundred Years of Solitude. I'm sure that Leigh is not responsible for a house style that uses [sic] to remind us that Porter didn't always spell names correctly or sometimes dropped a letter in writing a word. I mean "bran [sic] new" is hardly worth the time it took. None of this diminishes my gratitude to Leigh for the hard work he did in bringing this book together.
But I do have a bone to pick with Porter's biographer Justin Spring who seems to have written—they are unsigned—the head notes in Material Witness. I believe he wrote the one about Porter and James Schuyler's relationship because it echoes what he had to say about the two men in his biography. I accept that Porter and Schuyler were lovers, but am not convinced that Schuyler was a sponge who manipulated his way into staying with the Porter family for twelve years. If Spring is right about this, why does he get his facts wrong? And in a book by a man who greatly respected facts? Schuyler came to live with the Porters at Porter's invitation in 1961 not 1959. Porter made the invitation not because Schuyler had manipulated him into it, but because Schuyler had had a nervous breakdown that landed him in Grace New Haven Hospital. Porter offered him a home in which to recuperate. In the mid-1960s, Schuyler did not alternate living with the Porters and Kenward Elmslie and Joe Brainard in Vermont. He often visited Elmslie and Brainard, usually after spending the summer with the Porters. Schuyler did not leave the Porters in 1971 but in 1973. In 1971 Porter asked Schuyler not to come with the family to Great Spruce Head Island. What happened after this can be put together by reading Schuyler's letters from the summer of 1971 with those of Porter to Schuyler in this volume.
Spring follows this garbled history with a letter that he claims, "suggests some of the difficulties" in the Porter/Schuyler friendship from Schuyler's point of view. The letter does that, but since the reader already has Spring's generalizations about their friendship in mind, he cannot help but read it in their light. The letter in question dates from the mid-1950s and was written before what Spring says happened took place. The reader can decide for himself if it is the letter of a clever sponge. When Nathan Kernan's biography of Schuyler appears in a few years we will learn more about the Porter/Schuyler relationship. My concern is to point out that Spring's sureness is that of one who has made up his mind so thoroughly that the facts are trivial.
I have one more caveat. In his introduction, David Lehman writes, "Light is the invisible subject of Porter's painting." This makes no sense. I think I know what Lehman means to say, but cannot be certain. Perhaps it is that light in Porter's paintings is not their main subject, but simply a material witness. —William Corbett
Contributor
William Corbett
WILLIAM CORBETT is a poet who has written books on the painters Philip Guston, Albert York, and Stuart Williams. He directs the small press Pressed Wafer and lives and works in Brooklyn.