Art
In Conversation
Mark di Suvero with John Yau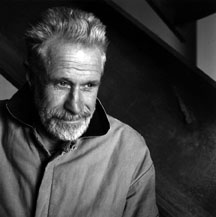 On the occasion of the artist's recent exhibit of indoor sculptures at Knoedler & Company and the installation of his large public works at Storm King Art Center, The Rail's John Yau visited Mark di Suvero's studio in Long Island City on a sunny spring afternoon to talk about his life and work.
John Yau (Rail): The first question I want to ask is where you went to college?
Mark di Suvero: Well, I quit high school because I saw that it was just a bunch of social parties, and became a house painter and then a boat builder and, after a year when I was bicycling through the desert, I read The Story of Philosophy by Will Durant, and realized that's what I wanted to study and went back to school. I wasn't allowed back into school because I had quit, so I took classes at San Francisco City College, and then they wouldn't accept me in Berkeley, so I went to Santa Barbara, until they stopped me because I had discovered sculpture and was a little too wild for them and they kicked me out of the department and I went back up to Berkeley, and I finished there with a degree in philosophy.
Rail: Was Santa Barbara where you studied with Hugh Kenner?
di Suvero: Yes. It's also where I studied with Marvin Mudrick. Now Mudrick's work was much more of an influence. Kenner was already an established icon, but Mudrick was much wilder. He turned me on to Shakespeare. Anybody who does that, you know you always love.
Rail: So you took a lot of literature courses in college?
di Suvero: I probably ended up with an equivalent of a minor in English.
Rail: Who did you study sculpture with?
di Suvero: Well, there was Robert Thomas in Santa Barbara who allowed me to do whatever I wanted. And there was Stephen Novak in Berkeley. When they kicked me out, Thomas gave me a sealed letter that I brought up to Novak, and I handed him the letter, and he opened it and burst out laughing; and he let me do everything that I wanted.
Rail: That's great!
di Suvero: I never knew what was in the letter.
Rail: What kind of work were you making?
di Suvero: I was beginning my very first pieces, which were large plaster. They were six feet tall. I was very influenced by Giacometti; I'd just seen a show of his in '53. I'd also just seen a show of New York abstract painters, and, since I had been a house painter, I saw that I couldn't do egg tempera, you know da Vinci was out of the question, but I could do that, it was no problem. So, when I was living in a tree house, that's what I started doing that kind of painting.
Rail: Did you make the tree house?
di Suvero: No, I rented it—it was a very cheap—it was twelve dollars a month, and I had running water and light. I didn't have a toilet; you had to climb down to use the toilet. I realized that working then for two dollars an hour as a gardener, because all gardeners were either Japanese or students, and there were many rich people in Santa Barbara, that all you had to do was work two hours, three hours a day, and you had it made—so long as you didn't have luxuries. If you eliminate the luxuries, you could make it.
Rail: When did you move to New York?
di Suvero: Immediately after Berkeley. They were trying to draft me for the Korean War, but I managed to get out of that and moved to New York in '57. I moved in with Bea Wheeler on St. Marks Place.
Rail: Bea Wheeler?
di Suvero: Beatrice Wheeler who became the partner of Spencer Holst. He ended up with her and I ended up without the apartment and her. (Laughs)
Rail: Did you get a studio right away when you got to New York?
di Suvero: Yes. I paid forty-two dollars a month rent. I had to do whatever I could to make ends meet, from house painting to other small jobs. Steel was so expensive so I worked mostly in plaster in those days.
Rail: When did you start making the big pieces for your first show at the Green Gallery in 1960?
di Suvero: I started to work on them as soon as I moved in on Avenue A, an apartment where I shared the toilet with the people next to me. You know, one of those places where you flip the lid over onto the bathtub and that's the kitchen counter, and then you turn it up if you need to take a bath. I shared the toilet with my neighbor for about a year and a half, and I never saw her. We would knock on the door, you know, can you imagine? Sharing a toilet where you never know the other person? And then I got the loft downtown. I moved in '59. Chuck Ginnever already had torches and a loft and everything else, which, you know, I dreamed about.
Rail: How did you meet Chuck?
di Suvero: Chuck and I drove across country together.
Rail: So you met in California?
di Suvero: Yes, he's from San Francisco and he and Manuel Neri were in the same basement studio that everybody shared together then.
Rail: So you knew Neri back then?
di Suvero: Manuel's been a great friend for at least fifty years or so. But he's in Carrara now.
Rail: Oh, where he gets the marble?
di Suvero: That's where he makes the marble pieces, yes, but he carves the marble himself. It's not done with maquettes. You know lots of sculptors use maquettes, and then other people work them up in scale and make them.
Rail: Who were the people you met in New York when you got here?
di Suvero: There was Milton Resnick. He was the guy that opened the doors. So there's Milton and Pat Pasloff, and there's a guy called Hogey who has since moved upstate. There were a group of young artists around the Cedar Bar, but they were the older ones who were drinking and fighting and making it, and we were hoping to get into a gallery. We ended up with Pat Pasloff down on 10th Street, where we ended up in a basement gallery.
Rail: Then in 1960 you had your first show at Green Gallery.
di Suvero: By then I had a broken back. Dick Bellamy had come to me, sent by Pat Pasloff when he was out of the gallery. He and Ivan Karp were in the Hansa Gallery, and then it closed, and Dick was hoping to open another gallery. He came to me before my back was broken and talked to me and I said, "Well, let's see if you get a gallery." He said maybe and then my back was broken and my friends helped me move the pieces from downtown, which I was no longer able to move.
Rail: That's also when you got that amazing review from Sydney Geist, when he said he hadn't been so moved since seeing an exhibition of Brancusi. He said that you had stepped into history.
di Suvero: Yes. I went to see him just recently. You know he has aphasia now...
Rail: Is he in a hospital?
di Suvero: He's in a rehab hospital. He can't speak, but his mind is still going strong—horrible for someone who writes.
Rail: Then, in the early '60s, right after you had this first show, the art world begins to change.
di Suvero: And I go the wrong way. I quit Dick because he's showing all pop art and I think that this is just for the market and it's just commercial art. I go, and along with Dean Fleming, Peter Forakis, Bob Grosvenor, Tony Magar, Tamara Melcher, Frosty Myers, and Ed Ruda, we form, it's not even a co-operative, it's a commune. We decided we would share our ideas and play music together, which we did. We were going to share the proceeds from anything that sold. It lasted for about two weeks, but it continued for another couple of years. Well, you know, when you start talking about sharing your lovers, things get difficult. (Laughs)
Rail: The art world changes, and you go the wrong way. You keep working and then you have this argument with Donald Judd that art historians keep referring to, in order to both criticize you and promote minimalism.
di Suvero: By then the Jewish Museum was one of the cutting edge institutions. They showed what young artists were doing.
Rail: That was the Primary Structures show.
di Suvero: Wait, that was the one that caused a lot of debate, but I was in a show previous to it, which included Lee Bontecou and John Chamberlain. They included me, and that's where David Smith saw my work and liked it. Afterwards, I must admit, I was a little bit drunk when I went to that event, and I highly advise any young artist not to begin debates when you're juiced because you have to live with it for the rest of you life. That's when I've said the most stupid things in my life, and they're quoted constantly afterwards. It was a symposium. Some of the people in the symposium were Robert Morris, Don Judd who was in—maybe he was on stage—Ronny Bladen was in the audience. And I said, "Well, you're not an artist because you don't do your own work," and Robert Morris said to me, "Mark, the technique doesn't matter," and, I agree of course that technique doesn't matter, but they forget to include that part when they quote me. They just say that I attacked Judd.
When I had the show, Judd gave me one of the most beautiful reviews and, fortunately he was kind enough to include it later in his book. I admired him at the end of his life. Of course, I'm very much against the ninety-degree grid. I think that a lot of that work, what they call systemic art where you repeat the grid constantly, is like a warm baby blanket for people who are total conformists, who live in cubic apartments and want to feel good about the way they live. The ideal is to be clean, and not admit the animal nature, which we have, not to be improvisational, not to deal with things that might blow up and be wild. That was really my basic argument with those people. They did some very excellent, often hollow work, and I found out that I had no emotional response to it. But Dick showed Judd, Morris, and Dan Flavin.
In that symposium, which we are talking about, I praised Bladen's Three Elements and said, that is a great piece of sculpture. Of course, I didn't even know it at the time, but that piece depends upon a center of gravity that is displaced within the piece, which keeps the piece together, and, at that time I still wasn't working with a crane. Anyway, I was not included in the Primary Structures show, I was not included in the Assemblage show that they did, and then, after you hope to be in there, they say no. All right, I did my work anyway, and the irony is that they come to me now, and they say you were in the Assemblage show. You were in Primary Structures.
Rail: But you weren't.
di Suvero: I wasn't.
Rail: At the same time, Sidney Geist's review must have been a heavy thing to hear when you're in your twenties. What do you do after that?
di Suvero: Oh, you have to be very careful when you get very flattering criticism, because if you tend to believe it, it freezes you. The art market also freezes you, in the sense that dealers want you to stay with whatever trademark or image you're associated with, and you stop being explorative. You know, if you stop being explorative, you may as well stop making art altogether. I had to change from working in wood, where you need your body to work through, to steel where there is equipment. By moving into that, the constructive part of my work became much more dominate. I ended up learning how to run a crane, and buying one with a grant that the National Humanities for the Arts gave me. Manuel bought a church, I bought a dead crane, and learned how to fix cranes. But then you change, you change once you have a different set of tools, and the tools really determine how far you can go.
Rail: I want to change direction. Your brother is a poet.
di Suvero: Yes, Victor, my older brother, was the one who introduced me to poetry. What he gave me is an invisible, immeasurable gift that changed my life, like love.
Rail: And he lives in New Mexico and had a press.
di Suvero: It's called Pennywhistle Press; he publishes poetry chapbooks. He was a poet during the beat revolution, but his poetry really began out of World War II, during the war, well, in the South Pacific, the war on the Japanese.
Rail: So your brother was a poet, you grew up with poetry, and then the other thing is your father. You were born in China, and your father was an anti-Fascist, and he was in the Navy.
di Suvero: He had been in the Navy. He came out of the Navy and he was a businessman representing Italian firms, working at the Italian consulate. And when he was part of the consulate, one of his friends came and put a telegram on his desk that said that they were supposed to arrest our family on Monday, and that was on a Friday.
Rail: So that Monday your family left?
di Suvero: Yes, we were very late getting out. My father was half-Jewish in heritage, agnostic, and my mother had been a Catholic. She was into seeking many religions; she was very into seeing Buddhism in India and in China. But they were very much anti-Fascist, that's why they were ordered to be arrested. That's how I got to America.
Rail: The other thing I want to talk about is Socrates Sculpture Park—this magical thing you started where sculptors can show their work.
di Suvero: I started it, but with Isamu (Noguchi). I went to see a lady named Jenna Plankson, who said why don't we do something like there is in Jerusalem, where there is some kind of market—I've never been to it—that shows arts and crafts. I went with Isamu, and we walked over this unused landfill. But he was very angry at New York City for what they did to Louis Kahn. He did a project with Kahn, and it came from the photographs that Isamu took of that star conservatory in Bombay. Kahn got very interested in it and they did this whole project, and the newly elected mayor said no way. Noguchi hated that he helped start the park.
Rail: The purpose of the park is to show sculpture.
di Suvero: Yes, to show sculpture by living sculptors. With Dick's help, we were able to borrow important pieces. We borrowed a piece by Keith Haring and we borrowed a Tony Smith from Paula Cooper. One of the things is that painters are able to store their work more easily. The larger the piece is, the harder it is to store—but the point was to show emerging younger artists like Chakaia Booker, Peter Lundberg.
Rail: And the shows change every few months?
di Suvero: They used to change that much, but now we're doing like three per year.
Rail: How does the work get chosen?
di Suvero: I never chose. It would have become difficult for my friends—has become difficult for my friends—but at least I'm not there answering phones as to why they're not in the show. Having already been in a hard place and then gone through the struggles that happen inside these cooperative galleries—it becomes so petty, it's awful. I mean I shouldn't really talk that way about it, because the alternative is the moneymaking galleries. There's no overlap between the artists, no communication, or very little, and that was where Park Place was headed. If you could make music with somebody, and you're painting and you talk about what painting should be, and what you think about it, then there's a different kind of flow, and that's what we had in Park Place, in old Park Place. Then Frosty Meyers found a solution of building that first big gallery. You've probably seen what it is now; it is called Art and Architecture. That was the old Park Place. It was a big space, the first Soho gallery, but a little bit north of Houston Street.
Rail: You talk about being improvisational. I'm curious because I saw your drawings at the Knoedler show—what's the relationship? Do you do them before, during, after the sculpture?
di Suvero: Oh, I do them before the sculpture. Oh my god, it's easier to make your mistakes on paper than it is in steel. The ideas come, I get that kind of, well, you know about dream time, or that higher dimension type of thinking when you have that kind of a vision of the way that you think or feel the piece should be—in order to remember it, I do a drawing. But the drawings are unreadable from the other side. There's no machine that can translate the drawing. I think that drawing for the sake of drawing, for that beautiful moment, where you dive into this swimming pool of white paper—that first stroke is just a gorgeous moment. You enter into it. There are hundreds and maybe thousands of drawings that I've done, and a lot get torn up or lost or get water, ink, or wine poured over them, or end up in the garbage can.
Rail: Have you ever had an exhibition of just your drawings?
di Suvero: In France I have. I've also shown drawings, paintings, and sculptures in a French museum. But I like the all-city shows, where I show pieces in different parks throughout the city, and people either bicycle around it one way or the other and that way they discover the city that they've lived in from a different perspective.
Rail: You did that in Nice.
di Suvero: In Nice I did that a little bit.
Rail: I mean, the small pieces were in the museum, but the large pieces were all over the city itself.
di Suvero: Right. And in Holland—when I left the country because of the Vietnam war, after the couple of times they put me in jail, I just thought, the country is never going to change, and I left and went to Eindhoven—that was the first place that I put my pieces all over the city. It was a strange city. It was run by Phillips, you know, the electronics company. I used to take my moped and go out to Nuenen, which is where Vincent van Gogh lived and worked, seven kilometers away. I asked them, how come you don't have a van Gogh painting? And their answer was, "Well, you know he was mad." (Laughs) Seven kilometers away is where he worked.
Rail: So the other thing is, you work at all different scales. I mean, you work small—there are things on your desk.
di Suvero: This one was a project for Texas. It was supposed to have been a 1500 foot piece of sculpture. Janie Lee had it together with the de Menils, and I went there with a helicopter. I realized that 700 feet was taller than any buildings, that they had. Everything was all set and then it didn't happen. I think there are different sizes for different people. People like to touch the small pieces. There was a man who complimented me, who came from the Central Academy in Beijing. He said that the small pieces are your steel calligraphy. Well there's that moment in calligraphy when you just do it right. I have parts of pieces in my studio that go back 20 years that still are not finished. Sometimes I may work a couple of days on them, and another piece will call me away, and they start to gather dust.
Rail: So you begin working without knowing what the result will be.
di Suvero: You start with a dream. We're so lucky, because we are able to make the dream come true. So many people stop dreaming. They become couch potatoes in front of their TV and think that they're enjoying it. They go to bed with a bad taste in their mouth from not having gotten anything done; they've betrayed the animal inside of them; they haven't played, haven't worked, haven't used their bones and muscles, their eyes, their coordination, and then they have bad dreams. They talk about what they've seen on TV, repeat what they heard, and they function like robots.
Rail: I want to ask you about your relationship with the sculptor Gabriel Kohn.
di Suvero: I never knew Gabe Kohn. His work is amazing, because it is not geometric or just cubes; it wasn't cubist in that way, it's very explorative. It had a different sense to it, and I thought it was wonderful. He also went the wrong way. There was a collector who came into Leo Castelli and said, I like this piece, I'd like to buy it but the finish isn't smooth enough, and they went and had it sandpapered down, and varnished. Kohn said, I don't want to belong to any gallery that will do that to my piece, and he quit. Castelli got so much into business; I think the art became secondary to him. Kohn never went beyond a certain scale, and that was what happened when I started using the wood that they tore out of these hundred-year-old buildings and they made giant fires out of them down on Water Street.
I could see the skyscrapers dancing through the fire. I used the wood because I knew how to join it together. All of those structures in the first show I did in less than six months, and then my back got broken because I was doing a job that paid the rent. The real part of the work is the joinery, which is invisible, and a lot of that hasn't survived because they've been taken apart and put together too often, and they weren't made for that. Since then I've developed a more complicated kind of joinery, which allows for many parts coming together and yet looks very simple. But part of the beauty of learning and loving the technique is that you make something very difficult look easy, like Bach. (Laughs)
But to get back to Kohn, I think he's been ignored. That's too bad because he was a pioneer. The artists we could look at in the 1950s were very few. I mean those who were really making abstract sculpture, besides David Smith, there was Isamu Noguchi, Theodore Roszak, Kenneth Armitage, Ibram Lassaw. Herbert Ferber was doing these, now they call it installation, complete works that you could walk into, similar to the work of Frederick Kiesler. It was a very small group and we were all thinking that we were moving towards something that would break all the rules and at the same time would allow everybody to work any which way and that was where our hope was. And then we ended up with the kind of recent installation that is obsessively sweet, but doesn't have much in the way of formal demands on the emotions. I just don't respond well to that kind of work, really.